One of my stamp clubs has a group that participate in a swap of "fat pages". These are 6 x 6 pages that can then be put together into a book or used as on a card. Our theme this month is "I Believe In Santa". This was a bit harder for me because few of my Christmas cards have a Santa on them, since I prefer to bring out the spiritual meaning of Christmas in my cards. I had recently purchased an InkaDinkaDo stamp set that had a very nice Santa included and decide this was perfect for my design.
I stamped the Santa image in dark green onto cream carstock. I added some color with chalks and layered on red. I embossed another cream piece with a sizzix embossing folder with presents on it, then rubbed the dark green ink over the top to bring out the design. This was layered onto a piece of dark green cut out with a Nellie Snellen scalloped rectangle die. The Santa was mounted on top of this. I had some decorative paper that was different Christmas postage stamps so I cut out the ones I wanted and layered them on decorative green paper, then layered this onto more dark green cardstock. This was edged with lace, then layered onto some decorative red paper, which was layered onto a dark green base. I embossed a border along the bottom and rubbed on ink to bring out the design. On top I placed a rectangle of cream, stamped with another Inka stamp in green, and sponged the edges with green ink. I stamped the word "Believe" in green on cream, rubbed edges with red ink, and layered onto a Spellbinder die. I punched out different size snowflakes, layered, and attached, adding a jewel in the middle of each to enhance them. I also added some additional punched reindeer.  I attached the Santa/Gift rectangle and the "Believe" with popdots.
I entered this in the following challenges:
Blog Hop Recipe Challenge with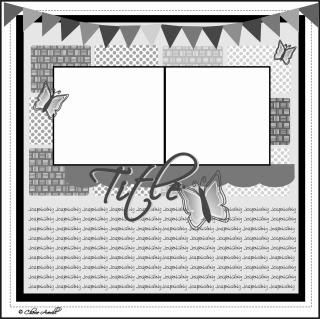 ScrapFIT (use 3 of the same thing - used snowflakes and jewels),
Crop Suey (get a little messy, use some ink, paint or mist or
combination of all 3 - I used chalk, which I had
everywhere, especially after I dropped it, and ink),
ScrapTiffany (use lace) and
Cuttlebug Spot
(some texture or embossing).
Stamping Vacation - Pick 3 - I chose Green Paper, Popdot, and Corner Punch(small snowflake came from a corner punch and I used a corner rounder on the "Believe" message